Hey loves I've been a bit distant and not in the right spirit to share but some time away to refocus, regroup and repurpose has made me feel a lot better about the path that I have chosen and the steps that I am taking to get to a particular destination.
Sometimes life has a way of making you stop even when you are on the express line and think you are taking the necessary steps to reach a goal. For the past month I've been neck deep into researching all things related to growing my blog and reaching a broader audience.
So much well intended information is available mixed in with the get rich quick crap that you must sort through but do you want to know what my most valuable lesson was in the end? Information is nothing if it isn't sinking in and if your heart isn't into receiving it.
illustration by miraclesinthemundane
I literally spent an hour one night at my computer and in the end told my Lil Mama, "I have no idea what I just read or heard." I knew right then and there that my energy was low and my heart wasn't in it. I took the next three days to figure out what I wanted to do which is why I am here.
I want to connect with you. I want to be honest and I want us to grow...together.
My life is not full of a lot of fluff but it can have some suspense every now and then. I am extremely private but with you I want to be an open book because I want you to help me keep growing and keep testing my limits. I want you to hold me accountable for my shares and my goals.
So back to my month of research what did I learn?
illustration by carefulcents
-Everything you learn won't work for you. We are individuals let's be grateful for that and with that comes the fact that what works for one doesn't work for another. It's ok, keep trying things out until you find what feels good. This applies for all things in life.
-What is your intention? If you want to make more money you can't just say "I want to make more money." You have to set a plan to make that happen. You set an intention now take steps to reach your goal.
-A lot of people have a lot to say. And they have no problem saying it. Learn to shut things down and turn things off when you are feeling over whelmed. Wanting to grow your business or make changes in your life is strictly your decision. How you want to go about it, how fast or slow you want things to happen and to what extent you are willing to push yourself is your call. Do Not let anyone tell you you aren't doing enough.
-Don't loose the love. If at any point you begin to loose the spark that bought you to that choice in the first place stop. Nothing good can grow if not done with love.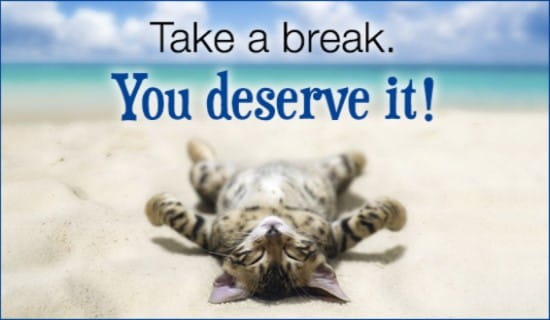 illustration by crosscards.com
I don't regret the semi month of torture that I put my poor mind, body and spirit through. I am grateful that it happened now and not later but I know now to never push something that doesn't want to move.
I'm in a different head space now and it all started because I stopped.
What are you struggling with currently that you know you should take a break from and just don't know how to go about doing so? If you experienced this what tips can you share with us about how you handled things? Share with me.
Always street free xo,
Mari