I had this thought while I walked in the park on Monday...
By the time I was my daughter's age I had been living on my own for almost two years. I had a full time job and a serious relationship and bills to pay,
real
bills.
When I look at my child today, I can't believe the big responsibility I had to handle so early on simply because my mother and I couldn't get along and couldn't compromise. I can't imagine my daughter having to deal with all I had on my plate.
It isn't that I don't think my daughter can't or couldn't handle it, it's that I feel she shouldn't have to at this age. Yes have a job, yes go to school, yes have a relationship, yes be independent but not because I am pushing you out of the house with my behavior or expectations but because you are practicing for when you are prepared to leave this place which you have called "home".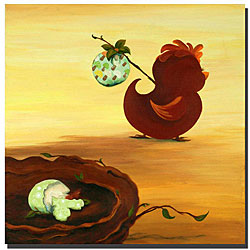 illustration by overstock.com
This eighteen years and I am done attitude has never been my train of thought. This yes leave my house go away to school and forge your own path has never been my goal. All these things will come and do come sooner than we know it. Parenting comes with loads of anxiety, those first eighteen years brings different levels such as:
•
Sleeping through the night
•
First tooth
•
Sleeping in their own beds
•
1st day of school
•
Puberty (I will speak on this often at later date).
•
Transition from elementary to high school
•
First time they disobey you
•
First dates
•
First meaningful disappointment (ours was not getting into her first choice in H.S., which turned out to be a blessing).
•
First relationship
•
First time they sleep away from home (for us that was at about age 6 and I hugged her like she was going away for 3 years and not 3 days lol).
The list is endless.
illustration by cartoonstock.com
As I am approaching this next stage what I have come to realize is that all those moments all those levels and everything in between still cannot truly prepare you for when your child is fully grown and independent and an "Adult".
You begin to see things in a different light; you begin to appreciate those simple moments.
You come into a new anxiety level of my baby is going out into this big old world and I can no longer hold their hand or protect them.
So what do we do? How can we help? How can we make the most of those eighteen years?
•
Lots of love
•
Lots of patience
•
Lots of communication
•
Learn to Listen
•
Invest time in getting to know one another
•
Focus on the positive, work through the negatives
•
Build memories and share lessons that will last a lifetime
•
Share plenty of laughs, lots of hugs and teach kindness
The anxiety may still exist but all that you have built together with your child will make it a lot easier to let go of that hand.
What else can we do to ease our anxiety?
This is one of my most treasured pictures of my daughter, that face. I can't believe she is twenty years old. When I have moments of awh poor me I ask her to sit on my lap like the old days and we get such a laugh at that because then I sit on hers and it is wonderful.
Building memories and constant communication has been a great help in preparing me for "that" day indeed.
What did you do to ease the anxiety of your baby leaving the nest? Share your story.
Always stress free xo.