Good Morning! Today my calendar says its Father's Day so in going with that flow I want to chat about the following and say...
Happy Father's Day to all the great dads in the world you are truly appreciated and loved but I especially want to shout out all the fathers who regardless of their circumstances step up to the plate and do their part in parenting. I want to wish you a day of love, peace, health and kindness. I want to acknowledge that as a mother I am proud you have made all the efforts to remain relevant in your child's life. I want to say that not all of us single mother's or women think you are an a**hole. We are not all bitter and reckless with our words and actions when referencing you in connection with our children.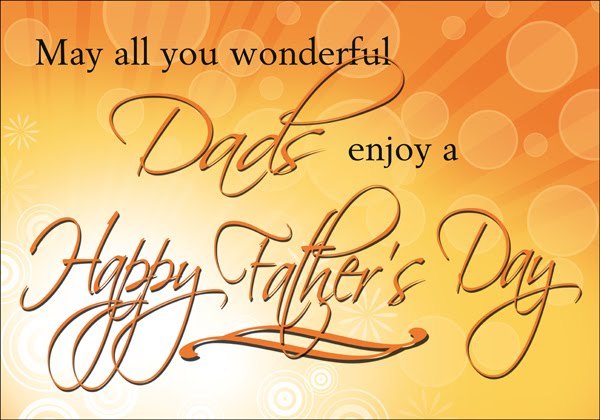 illustration by techuloid.com
I want to acknowledge the little things you do and the small ways you have made a lasting impression on your child(ren). Perhaps just by cutting up their fruits on your lunch date or combing your daughter's hair before you bought her back home. Maybe when you dropped by his after school just to say hello before his mother picked him up or perhaps by going shopping with her for her prom dress. The times you left work early to catch your kids baseball game, the many times you had to listen to unkind words at the front door just to have your child over for the weekend.
We never speak about that father who left the relationship but
never
left the child.
I know many of them my father was one and my daughter's father is one. They are awesome men. I love them so.
I may not see my father now but I have great memories of him as a child. My parents split shortly after I was born from what I can recall and the stories I have heard but my father never
left
me. He is in every picture of my many milestones and every summer he would come and get me so I could stay with him for a few weeks. My father helped my mom pay for my Catholic school education, my father took me clothes shopping, my father took me sightseeing in New York City. My father sat right next to my mom and her new husband at my eighth grade graduation. Those memories no one can ever take away. My father was a loving kind man and always loving and respectful towards my mom. I never saw a poor exchange. When I turned 18 and went to live with him my father made me breakfast every morning just before he left for work. My father taught me way back when even though I didn't listen, the importance of choosing our words carefully, of working hard and of respecting all. Hard work and respect I grabbed quickly choosing my words came later but I appreciate all the time he took to teach me those lessons.
illustration by heavy.com
My parents didn't work out as a couple but so what, he was still my father and had my mother not been reasonable enough to co-parent I would have lost out on knowing a whole other side of me.
My daughter had a longer run with her father actually being in a household with her so her memories are vast and run deeper than mine. The times I had to leave for work early and he stayed behind and got her ready. The things father's teach their sons my daughter's father taught her because he saw no difference in gender. Shopping for her first bra he was there, video games and bloody movies he was there, school plays and shows he was there, Tae Kwon Do events he was there helping her carry her trophies. He
was
there.
When we split up we made it a point to be clear, we are not a couple but we will always be in some sort of way a family
unit
.
We broke up, they didn't break up. He will always be her father.
How can I invest my energy in bashing or keeping my daughter's father away from her? Why? What is there to gain.
Single mother's from my perspective somehow want to link their emotions and personal history with the father and the child. I am not suggesting there won't be a period of adjustment, a time required for healing and continued growth but I am
saying
that our children did not ask for this they just want to be loved by both their mom and dad and if he is still around and
willing
and
able
to do so then let him.
Don't deprive your child of that connection and love, it will be you in the end who is the bad guy not the other way around. Children remember and will connect the dots. The many times their father showed up and you caused a scene will stay in the back of their minds, the times you said ugly things about their father but his actions showed something else, they will recall.
We are suppose to protect and love our children, want the best for them surround them with love. If their father wants to continue to do those things and more but just not with you along for the ride, be a better person and allow it.
illustration by wishabuddy.com
Help build a better society of men remaining a part of their children's lives. Encourage the visits, the calls, the connection. By us behaving better as mothers, as women, as a single parent we are further cultivating a healthy, loving, gentler, more present male today and for years to come for any child who's parents just didn't work out as a couple, again this isn't about you its about what is best for your child.
Again I point out, don't get it twisted. I am referring to the father who is
willing
and
able
. The father who
wants
to do the right thing but runs into obstacles because of pride and ego.
So let's go out and enjoy this day and let's encourage any time that these two people can be together, the Making of a Good Father can start now.
Share your thoughts or memories of great moments with your dad.
Always stress free xo,
Mari